Here's another recent example landing page showing the importance of relevant copy and testing it to get the best result. I recommend taking a look at this post from Kissmetrics for the other copy examples too.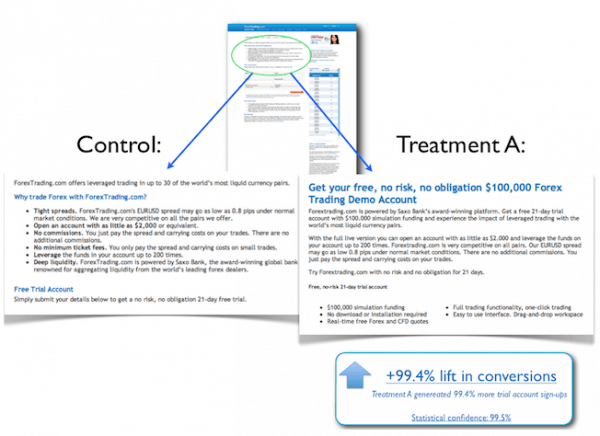 TWO. INTEGRATE with referral source(s).
The customer journey to your web site started elsewhere. To deliver relevance also requires consistency with what they have already read and seen to meet their expectation.
So in terms of message, branding and creative the landing page needs to deliver an integrated communication. This applies particularly to offline ads, interactive ads and e-mails.
The key message on the landing page needs to be consistent with the key message of the referral source. So again, you need to show the visitor they have selected the right place to find the brand, product, deal, information or experience they are looking for, so the headline must clearly indicate this.
THREE. Provide sufficient DETAIL to support the response decision.
The whole experience and content needs to be right to generate response. For me, one of the most important aspect of landing pages, and one that is often not right, is that there isn't enough detailed information on which the visitor can decide to signup.This is why I recommend the Option 3 above.
To help determine the right-level of information, best practice is to use web design personas to identify typical information required and the gap relative to what you deliver. Also think about the level of "domain knowledge" the user has – do your technical product descriptions make sense. Also think about "tool knowledge" – where your landing page requires using additional tool,s what knowledge is required to use them effectively and are you providing the right explanations.